Cover Story of Ritesh Agarwal | CEO & Founder – Oyo Hotels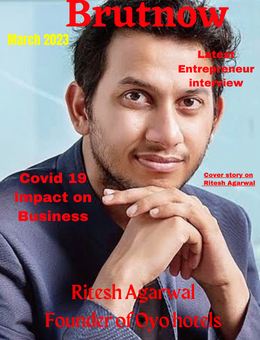 Ritesh Agarwal is a young and dynamic founder of the Oyo hotels enterprise. He belongs to a small village in Orissa and made his journey to becoming the founder of one of the most successful startups in India. He is truly an inspiring story of determination and innovation and has completely re-defined the Startup ecosystem in hotels with the establishment of Oyo hotels.
Agarwal was born in Bishama Katek, a small village in Orissa, in 1993. From a young age, he showed an interest in entrepreneurship and even dropped out of college to pursue his dreams. He was only 17 years old when he moved to Delhi to work on his startup idea, Oravel Stays.
He struggled to make ends meet and had to stay in cheap accommodations. This phase of his life taught him the importance of affordable and comfortable lodging, which became the foundation of his business idea.
Ritesh's vision of providing affordable and quality accommodations to travelers led to the birth of Oyo in 2013. He started with one hotel in Gurugram, India, and within a few years, expanded to become a global hotel chain with over 1 million rooms across 80 countries
Oravel Stays was a platform for listing and booking budget accommodations. However, Agarwal quickly realized that there was a need for affordable and standardized accommodations in India. He pivoted his company to become Oyo hotels in 2013, focusing on providing a consistent and high-quality experience to guests across India.
The early days of Oyo were challenging for Agarwal. He had to convince hotel owners to partner with
Oyo was a new and unknown brand at the time. However, Agarwal's persistence and vision for Oyo paid off, and the company quickly gained attraction. By 2015, Oyo had received funding from major investors such as SoftBank and Sequoia Capital.
What sets Oyo apart from other hotel chains is its focus on providing a consistent and high-quality experience to guests, regardless of the location or price point of the hotel. The company uses technology to streamline operations and has implemented a set of standardized protocols for everything from housekeeping to guest experience.
Despite Oyo's success, Ritesh Agarwal faced numerous challenges and setbacks along the way. He had to deal with issues such as hotel quality control, legal disputes, and cultural differences while expanding globally. However, he remained resilient and learned from these experiences, which helped him to improve and grow the business further.
Under Agarwal's leadership, Oyo has expanded rapidly, both in India and internationally. The company has acquired several smaller hotel chains, including Hooters in the UK and Leisure Group in Europe. In 2019, Oyo was valued at $10 billion, making it one of the most valuable startups in India.
Agarwal's success with Oyo has not gone unnoticed.
He has been named to several prestigious lists, including the most prestigious achievements like getting into Forbes 30 Under 30 and Time 100 Next. In 2020, he was appointed to the board of directors of the SoftBank Group, cementing his position as one of the most influential entrepreneurs in India.
Despite his success, Agarwal remains humble and focused on the future. He has stated that his goal for Oyo is to become the world's largest hotel chain, and has plans to expand the company's offerings to include vacation rentals and co-living spaces.
Agarwal's commitment to entrepreneurship extends beyond Oyo. He has launched a program called Oyo Preneurs, which provides funding and support to promising startups in India. This program is a testament to Agarwal's dedication to helping other entrepreneurs succeed.
One of the reasons for Agarwal's success is his ability to identify opportunities and pivot when necessary. When he realized that there was a need for standardized accommodations in India, he pivoted Oyo Stays into Oyo hotels.
This move proved to be a game-changer for Agarwal, and Oyo quickly became one of the largest hotel chains in India.
Another key to Agarwal's success is his focus on providing a consistent and high-quality experience to guests.
This focus on quality has been critical to One's success, as guests know that they can expect a
A certain level of service and amenities, regardless of the location or price point of the hotel.
Agarwal's leadership style is also worth noting. He is known for being hands-on and involved in all aspects of the business. He is constantly traveling to different locations to meet with hotel owners and guests and is always looking for ways to improve the Oyo experience.
The founder of Oyo hotels is known for his simplicity and humble nature which Makes him even more respectful and special than the rest of the others. The rise of the Oyo shows that Uniqueness along with Demand can make a business successful and Can make the corporation a successful enterprise.
(Assisted By Santhosh Mani – Brutnow Intern)
Atul Raghav is a talented and driven author who has made a name for himself in the literary world at just the age of 18. With six novels under his belt, he has not only demonstrated his exceptional writing skills but has also generated multiple thousands of dollars in revenue for his clients. Despite his young age, Atul is a true motivator and a firm believer that age is just a number. He is dedicated to his craft and continues to push the boundaries of storytelling.
With a strong background in writing, Atul has honed his skills to create content that captures the reader's attention and delivers a clear message. Whether writing about technical topics, creative pieces, or social issues, Atul has a unique voice that is sure to captivate and inspire his audience.